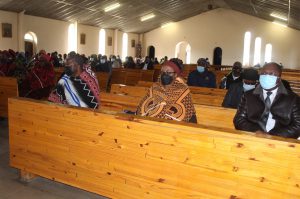 Honourable Letsosa showed that, he wishes to ensure that every Mosotho is documented and is issued with an identity document. He further assured shepherds who do not even get time to go Maseru to apply for documents that they will get them there as the officers were ready to serve them.
On the issue of human trafficking, the Minister stated that shepherds are most vulnerable to this danger as they work, and their parents get paid.  He stressed that shepherds need to be informed so that they could not fall into this trap.
There were about 50 shepherds and the event commenced with the mass that was led by Father Paul Shobane, the Priest at St. Leuis Catholic church. Father Paul indicated that the shepherds drew their worth from the bible Luke 2:8-20. He showed that they are very loving and caring to their animals to an extent that they get into trouble for their animals to eat. He further compared the love shepherds have to their animals with that of Jesus to his people. On that note, he said that
the church plays an important role to empower shepherds and make them appreciate their everyday job.
The church was concerned about the killings made by the shepherds among themselves. The ceremony was aimed to motivate and show them their importance in the community hoping they could stop the brutal murders and live peacefully.
"This is an important incident that makes shepherds feel the love we have for them. We are educated today because they sacrificed to take care of our parent's animals. I am very grateful to attend this kind of function because it is my chance to build new relations with these men.  I wish this could continue throughout the country so that all shepherds in Lesotho could also be inspired," said the Principal chief of Matsieng Mr. Seeiso Bereng Seeiso.