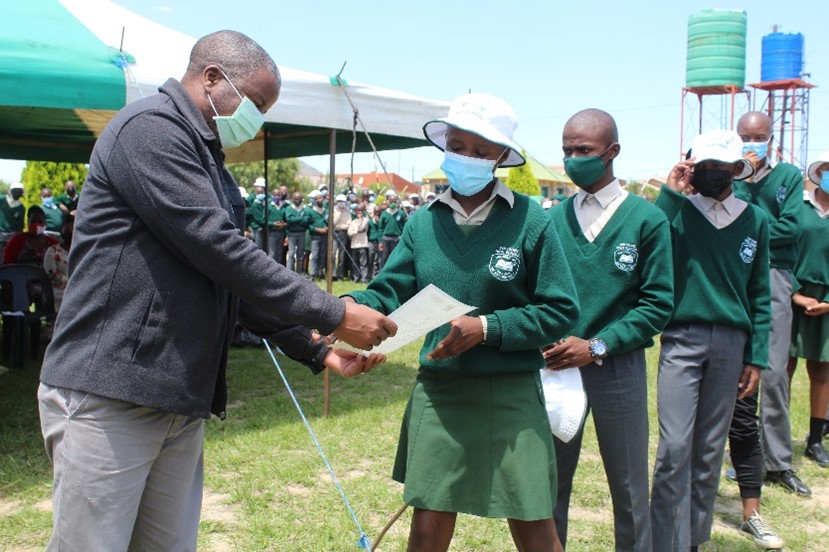 Out of the world's population estimated to be more than 7.9 Billion, 25 Million people are victims of human trafficking and Lesotho is no exception. January is marked to be a global human trafficking awareness month.
The Honourable Minister of Home Affairs Motlalentoa Letsosa was at Thetsane High School yesterday to sensitize students, teachers and community leaders about Human Trafficking which was seen to be rampant in our country in the past years. Prior to this, the Minister visited Liraoheleng Primary School on Thursday 20 January 2022 with the same purpose.
"Knowledge is power". Informing the nation about natures of human trafficking will help fight this horrific crime. Lesotho has so far upgraded from Tier 3 to Tier 2 Trafficking in Persons (TIP) watch list as of last year. Education is one of the strategies used to prevent human trafficking as per the 'National Strategic Framework and Action Plan to Combat Trafficking in Persons, 2021-2026'. This was an 'Amendment of Anti-Trafficking in Persons Act, 2011, which was launched in April 2021. The human trafficking cases are to be thoroughly investigated and offenders be prosecuted with a minimum of 25 years imprisonment without fine, emphasized Honourable Minister Letsosa.
During the same event, the Ministry through Hon. Minister Letsosa, issued birth certificates and identity documents to legible students and area residents, as in line with Strategic Development Goals 2030, target 16.9. Documents enrolment continued during and after the campaign.
In these two events, at Liraoheleng Primary School, 92 birth certificates were aissued to pupils, while at Thetsane High School, 42 of the same documents were issued. Enrolment of the rest of the pupils was done for both Identity documents.